Readymade Staining Solutions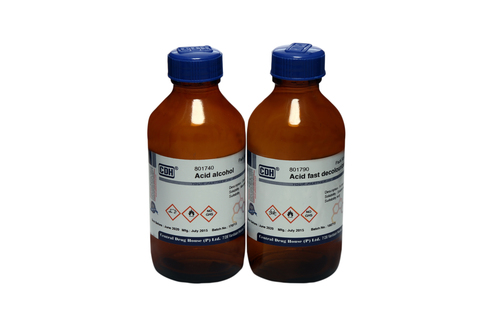 Readymade Staining Solutions
Product Code : RSS
Brand Name : CDH
Backed by advanced infrastructure, diligent employees and vast industry experience, our firm has been successful in offering Readymade Staining Solutions. Our professionals utilize qualitative ingredients, sourced by diligent procuring agents from the leading vendors, for formulation of these solutions. We further thoroughly check these solutions on different parameters so that optimum quality as per the standards laid by chemical industry can be assured. All over the globe, these Readymade Staining Solutions are highly appreciated owing to their longer shelf life and exact composition.

Other details:

May-Grunwald's eosin-methylene blue
Aceto Carmine solution
Papanicolaous soln. 1a
Albert stain 'A' solution
Papanicolaous soln. 2b
Albert stain 'B' solution
Papanicolaous soln. 3b
Borax carmine alcoholic
Shorr staining soln.
Borax carmine (grenacher's) aqueous
Wright staining soln.
Brilliant cresyl blue
Field stain 'A' solution
Carbol fuchsin staining soln.
Field stain 'B' solution
Gentian violet
Giemsa staining soln.
Methylene blue
Hematoxylin (Delafield's) staining soln.
Nigrosine 10% soln.
actophenol picric acid soln.
Safranine soln.
Leishman's staining soln.